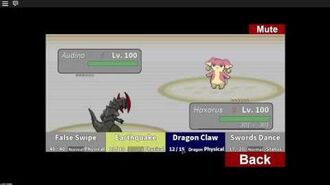 First Step
First, turn on 'EXP. Share', get a Pokemon with Swords Dance or any Sp. Attack or Physical Attack boosting status move (Example: Calm Mind) and a Fighting-type move.
Second Step
Go to Saffron City's Bot Battle Center (building beside the Poke Center) and then talk to the scientist and then type down any person you know who has a team full of Blisseys or Audinos.
But I highly doubt you know anyone who has something like that, so just type down "Iso", who has a full team of Audinos.
Third and Last Step
Now, set up Swords Dance/Calm Mind 3 times (or any Sp. Attack or Physical Attack boosting status move) and then when you're done, just sweep with any high power attacking move or Fighting-type move and your team will gain lots of EXP (14 616 for single or 7308 for share). (If Audino uses Reflect or Light Screen, Calm mind or Swords Dance 3 times will not work if you have a weaker Pokémon, since the Audino gains more Defense)
It is highly Recommend you use the 'Pokebooster' to double EXP.
WARNING
If you are using a Pokemon like 

Ditto or 

Mew, and it has the move Transform, DO NOT use it. The Audino's have NO attack moves, so if Mew or Ditto is your only Pokemon, the battle will not end until you have used up all your PP and one of you struggled to death. We recommend you to use a Fighting-type Pokémon level 90-100 like Scrafty.
Brick Break is amazing as it removes the barriers of the Audinos. A code called "Grasshopper", (now expired), gave a multi aura Fomantis which had "Brick Break" and "Swords Dance"
Community content is available under
CC-BY-SA
unless otherwise noted.